Over 40 Ab Solution Review: Scam after scam
To start this Over 40 Ab review, I have a question for you. Do you think this product is a scam or is it legit? For me, it is a scam and this review, I will tell you why.
Ready?
What is Over 40 Ab Solution?
Created back in 2015, Over 40 Ab prides itself on helping you lose and shrink your fat cells in just 12 minutes. That itself doesn't sound right to me. Seriously? In just 12 minutes?
It says that there is a secret twelve minute trick that will help you enhance your metabolic rate and reactivate your dying fat-burning hormones. It promises that both gents and ladies will achieve a tighter tummy in just 7 days. Yes, it is only for people 40 years old and above.
As the warning on their website goes:
"The report below is written specifically for gents and ladies over 40 years old who wants to immediately see their bellies flatten and trim down their waistline in as quick as 7 days. If you are below 35 years old, the program is not for you"
Hmmm.. Intriguing right. Now, let's go ahead and talk about the author.
Who is Shaun Hadsall?
Well, this dude claims that he is a fat loss and nutrition expert though he never mentioned how he is qualified for such. All he says is that he was a first runner up on Body for Life in 1998 which came up negative as I tried to verify it.
He also claims that he was once featured in Amazon,  New York Times and other fancy channels but again, no proof. Go ahead, feel free. Check it out for yourself.
Furthermore, he claims that Karen, his wife, ran a world class training studio in Michigan for 5 years but the name of the studio was never mentioned thus we cannot verify the truth behind it.
Hadsall explained himself on one Over 40 Ab Solution Review and here is some of the excerpts:
"I was not features on Body for Life website since they took down the old site. The newer site only features the winners. I was 1st runner up while Scott Nelson won, so he was the one featured."
"I owned a Fitness studio for more than 5 years and we rank #8 over the 350 franchises in the world. The reason why I don't mention names is because I already sold my studio and the new owners won't allow me to mention names after that."
Shaun also showed some documents to prove that he was features in different stations and even in New York Times.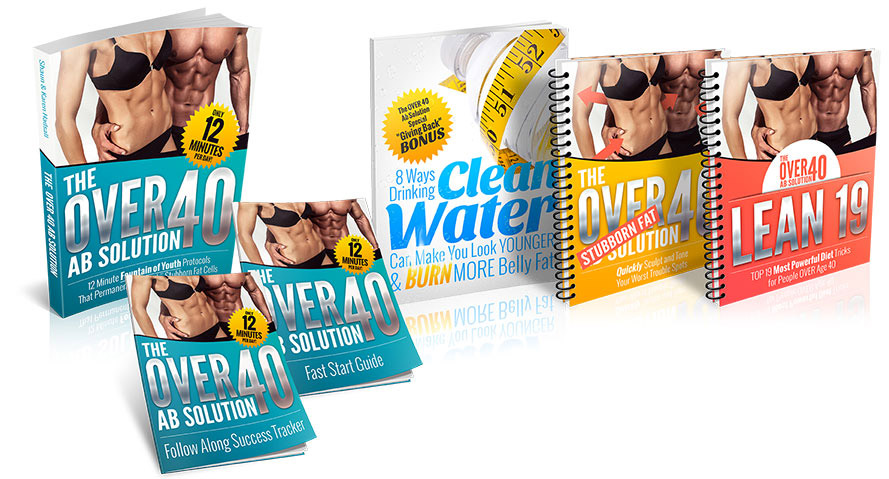 Click here for my 2019's TOP PICK Diet Product!
What is the story behind the Over 40 Ab Solution?
Shaun talks about the struggles of his wife Karen as she was diagnosed with colorectal cancer. Since she needed to undergo chemotherapy and radiotherapy, her belly started to bulge. After trying and failing on different diets and exercises, Shaun allegedly found the missing piece for people above 40.
Karen used the said routine and after 10 weeks, she lost 22 pounds and looked younger. Shaun provided a detailed photo of his wife to validate his claim.
Guess what? The photo also appeared on 2 other weight loss programs! These programs were 14 day rapid fat loss plan the 4 cycle solution, both were also scams.
Shaun has an answer to that:
"The strategies used on these 3 programs are all the same. Yes, there may be some inconsistencies but I really don't care if you will bash me because of it. As far as I know, the story of wife is a fact."
Okay. Let us move to the product now.
What is the Over 40 Ab solution About?
Based on their website, Over 40 Solution is the only zone training for people above 40 years old. It claims that you will be able to achieve a younger looking you by going through 3 different zones.
Zone 1: Prime
This stage or zone lets your body burn fat instead of carbs or protein. Primers are as follow:
Primer 1: kills your body's fat storage hormones so you can eliminate your unwanted fat cells.
Primer 2: activates hormones that will destroy your fat cells
Primer 3: a metabolic trick which will help release growth hormones
All hormones on this zone were not named by Shaun.
Zone 2: Release
This zone aims to activate your 'fountain of youth'. It consists of 3 movements.
Movement 1: the missing piece which activates the fountain of youth. Shaun mentioned that by doing a 20 second fat burning workout, the body will activate the only fat loss hormone which will eliminate the fat cells
Movement 2: a 30 second workout that will activate your youth hormone
Movement 3: 60 second workout that will eliminate the unwanted energy from your body.
Zone 3:
Flushes out your belly fat and making it flatter in just 12 minutes. It consists of 3 secrets.
Secret 1: Only movement to inhibit your body from creating fat cells
Secret 2: Forgotten old trick used by models to flatten their belly
Secret 3: A two minute exercise that will finish the flushing of belly fat
Scammy Advertisement
First off,  he talks about Big Pharma and how they generate a lot of revenue from the products they sell. This part will take several minutes of the video.
Next, he says that your genes is not to be blamed for your weight problems. Then a pop up shows up asking you to stay on the page.
The testimonials? Right. They were recycled
All testimonies were from Shaun's previous product. Nothing new. Well, Shaun has something to say about that.
"These were customers who used the 3 products together, which is basically the same information with a different packaging."
Final Thoughts
Well, to add on the things mentioned above, Over 40 Ab Solution also uses an extreme way of pricing. Why did I say so?
So go ahead and visit the website at http://www.over40absolution.com and you will see on the bottom part of the page a timer which says you only have 15 minutes to decide if you want to purchase the product for only $29. Then once the time is up, you'll have to pay $89!!!
But, if you will click on back or try to relaunch the page, the same promotion shows up. So you get another 15 minutes.
No legitimate website will do that! Plus they will also bill you for $7 a month for another product, the "Get Lean in 12 Club". That part was not mentioned on the page.
So if this Over 40 Ab Solution Review is not enough for you, I don't know what else to say but I simply don't recommend this product as it is a SCAM!!